Baby Lock Coronet and Frame

The new Baby Lock Coronet longarm quilting machine opens up worlds of possibilities for first-time longarm quilters. The included 5' frame that fits easily into the smallest studio, yet the Coronet has a huge 16" workspace that gives quilters complete con



Out of Stock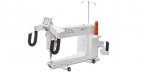 Baby Lock Crown Jewel III and Pearl Frame

With an 18-inch throat space, the Crown Jewel III is the most popular size in longarm quilting machines and is ideal for quilters looking for more workspace and software. This feature-rich machine sews at an impressive 2,200 stitches per minute, while its



Out of Stock
Baby Lock Flourish II

Add your own unique touch to every project with the Baby Lock Flourish II embroidery machine. Packed with user-friendly features, the Flourish II is powered by Baby Lock IQTM Technology. You can easily edit designs, embroider fonts and more all in one pla


Baby Lock Sofia 2

Trend-setting Sofia2 is full of ideas and makes the perfect friend for all of your embroidery and sewing projects. Compact in size, she always has something to share, like 70 built-in embroidery designs and 168 stitches.



Out of Stock
Baby Lock Alliance

The Alliance single-needle, free-arm machine lets you embroider easily in tight quarters and even on three-dimensional projects. Its narrow embroidery arm and specially designed small hoops and frames take your embroidery places not possible with other ma


Baby Lock Embellisher

If you're looking for a technique to make your projects stand out in a crowd, then the Embellisher is the machine for you. Sewers, quilters, crafters and embroidery lovers all appreciate the extra touch that this machine can bring to any project.


Baby Lock Journey

Begin your next embroidery voyage with the Baby Lock Journey. Explore unknown territory with 262 embroidery designs. Embroider them all, big and small with embroidery hoops as large as 7" x 12".


Baby Lock Sashiko II

Create the look of traditional, hand-work stitching passed down through generations on the Sashiko Machine. Replicate this distinctive and celebrated stitch and add a hand-stitched touch to any project with a machine that is truly the first of its kind.