Baby Lock Coronet and Frame

The new Baby Lock Coronet longarm quilting machine opens up worlds of possibilities for first-time longarm quilters. The included 5' frame that fits easily into the smallest studio, yet the Coronet has a huge 16" workspace that gives quilters complete con


Baby Lock Joy
SALE

$ 399.99 $ 199.99
Quantity:






Baby Lock Jubilant
SALE

$ 899.99 $ 499.99
Quantity: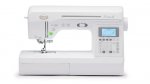 Baby Lock Presto 2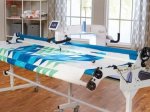 Baby Lock Regalia and Kinetic Frame - No ProStitcher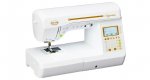 Baby Lock Soprano
Baby Lock Unity

Your sewing and embroidery journeys become one with the Baby Lock Unity. A sizeable, 7" x 12" embroidery hoop opens the door to larger embroidery designs. Numerous innovative features powered by Baby Lock IQ Technologyâ"¢ further enhance your creativi


Baby Lock Journey

Begin your next embroidery voyage with the Baby Lock Journey. Explore unknown territory with 262 embroidery designs. Embroider them all, big and small with embroidery hoops as large as 7" x 12".



Out of Stock
Baby Lock Sashiko II

Create the look of traditional, hand-work stitching passed down through generations on the Sashiko Machine. Replicate this distinctive and celebrated stitch and add a hand-stitched touch to any project with a machine that is truly the first of its kind.