Baby Lock Altair

Send your creativity into a new galaxy with the Baby Lock Altair embroidery and sewing machine.


SALE:
$ 10,999.99

$ 8,999.99





Baby Lock Brilliant

A sewing machine that's suited for any type of project? That's genuinely BRILLIANT! Part of the Baby Lock Genuine Collection, the Brilliant sewing machine is ready to handle anything from garments to home décor to quilts with ease.


SALE:
$ 1,799.99

$ 999.99





Baby Lock Gallant

You started your quilt, and now you can finish it with the Baby Lock Gallant. Packed full of features, the Gallant is just what you need to complete any quilting project.


SALE:
$ 5,999.99

$ 4,999.99





Baby Lock Jazz II

You may think the Baby Lock Jazz II quilting and sewing machine is the same old song at first, but it gets into the groove with its own melody right away.


SALE:
$ 1,399.99

$ 799.99





Baby Lock Joy

Having to sew on a patch or fix a hem used to be a hassle, now it's a joy! The Joy is the perfect choice for beginning sewers looking to add to their crafting opportunities or make small sewing projects around the house.


Baby Lock Jubilant

Want a machine that's a jack-of-all-trades yet small enough to take on the road, to a class or even to a friend's house? Then it's time to celebrate, because you found it.


Baby Lock Presto II

The Baby Lock Presto II quilting and sewing machine features 100 built-in stitches and a bright LCD touchscreen that allows you to select and adjust stitches note by note.


SALE:
$ 1,299.99

$ 799.99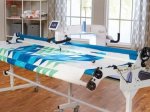 Baby Lock Regalia and Kinetic Frame
Out of Stock
Baby Lock Solaris 2

Solaris 2's built-in IQ Visionary projector displays stitches and embroidery designs directly on the fabric. Resize, move or make other adjustments with the touch of a wireless stylus all while seeing it happen in real time before you sew it out.


Baby Lock Triumph

The Baby Lock Triumph serger conquers serging in a way you never thought possible thanks to RevolutionAir threading. Thread the loopers with just the touch of a button and then thread the needles automatically with the touch of another button!


Baby Lock Unity

Your sewing and embroidery journeys become one with the Baby Lock Unity. A sizeable, 7" x 12" embroidery hoop opens the door to larger embroidery designs. Numerous innovative features powered by Baby Lock IQ Technology further enhance your creativity.



Out of Stock
Baby Lock Venture

The Baby Lock Venture 10-needle machine allows you to take on even more designs and projects. The Venture's free-arm design makes it easy to add embroidery to difficult-to-hoop projects, such as tote bags, t-shirts, etc.



Out of Stock
Baby Lock Victory

Ready to declare victory over threading your serger? Look no further than the Baby Lock Victory serger.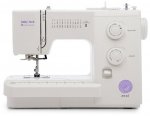 Baby Lock Zeal

Even your smallest projects are made with genuine zeal, no matter what they are. Zeal is the perfect choice for DIY-ers, crafters or even someone who just needs to mend clothing. Regardless, you're sewing it and you're sewing it with genuine zeal.


Baby Lock Zest

If you're ready to find a new sense of excitement through sewing, you'll find a great place to start with Zest! Whether you're looking to put together simple craft projects or need a basic travel machine, the Zest is exactly what you need.