Baby Lock Brilliant

A sewing machine that's suited for any type of project? That's genuinely BRILLIANT! Part of the Baby Lock Genuine Collection, the Brilliant sewing machine is ready to handle anything from garments to home décor to quilts with ease.


SALE:
$ 1,799.99

$ 999.99





Baby Lock Joy

Having to sew on a patch or fix a hem used to be a hassle, now it's a joy! The Joy is the perfect choice for beginning sewers looking to add to their crafting opportunities or make small sewing projects around the house.


Baby Lock Jubilant

Want a machine that's a jack-of-all-trades yet small enough to take on the road, to a class or even to a friend's house? Then it's time to celebrate, because you found it.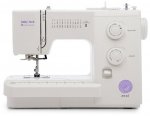 Baby Lock Zeal

Even your smallest projects are made with genuine zeal, no matter what they are. Zeal is the perfect choice for DIY-ers, crafters or even someone who just needs to mend clothing. Regardless, you're sewing it and you're sewing it with genuine zeal.