Husqvarna Viking Amber Air S 400

Enjoy the freedom of the air threading system on the HUSQVARNA® VIKING® AMBER™ Air S | 400 overlock machine.


Husqvarna Viking Designer Epic 2

The HUSQVARNA® VIKING® DESIGNER EPIC™ 2 machine continues to lead the sewing and embroidery machine industry with innovation and world-class features!


Husqvarna Viking Designer Sapphire 85

Your next chapter is yet to be sewn. The HUSQVARNA VIKING DESIGNER SAPPHIRE 85 sewing and embroidery machine will inspire you to settle into your favorite nook and create the next chapter of your sewing story.


SALE

$ 11,999.99 $ 4,999.99
Quantity:






Husqvarna Viking Emerald 118

The EMERALDâ"¢ 118 is a machine ideal for all types of sewing; from a beautiful, one-of-a kind dress to curtains that duplicate those seen in a magazine.


SALE

$ 599.99 $ 479.99
Quantity: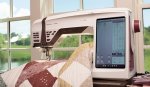 Husqvarna Viking Epic 95Q

Sewing Your World.


Husqvarna Viking Jade 20

The brand new JADE™ 20 sewing machine from HUSQVARNA VIKING® has many great features making it perfect when you want to create a space that is uniquely yours.


SALE

$ 799.99 $ 479.99
Quantity:






VIKING DESIGNER TOPAZ 40

It's magical the way sewing plus embroidery turns something ordinary into something extraordinary.


SALE

$ 3,599.99 $ 1,999.99
Quantity:

This item is not available for purchase online. Please call (801) 546-4906 to order.