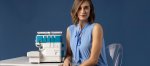 Pfaff Admire Air 5000

Create more inspirational projects than ever before with the help of the PFAFF® admire™ air 5000 one-touch air-threading overlock machine.


Pfaff Ambition 610

Command your creativity with the PFAFF® ambition™ 610 sewing machine. Durable technology and artful operation make this machine stand out from the crowd.


Pfaff Ambition 620
Pfaff Performance Icon

Inspired by German heritage, the PFAFF® performance icon™ sewing machine represents everything you've come to value from PFAFF®—a comprehensive and innovative sewing experience that truly delivers to your highest expectation.


Pfaff Quilt Ambition 630

Discover the difference of sophisticated elegance with the quilt ambitionâ"¢ 630 sewing machine. Unrivalled precision and commanding innovation come standard.


Pfaff Select 4.2

The select 4.2 model offers all the convenience of modern technology, plus, a few extras that will make your sewing even more fun and creative. Explore the possibilities!